Membership in the Canadian Golf Superintendents Association (CGSA) not only benefits employees of your company, but it also benefits your club! Think of it as an investment! Starting January 1st NEW CGSA Membership Dues are 50% off!!! New Members also receive $150 discount off an All-Access registration to The Canadian February 22-24, 2023. 
Sign up your Superintendent and/or Assistant Superintendent today and as a CGSA member here are some of the other benefits they will have below:
It's easy to join click on the JOIN/RENEW  or just have your staff complete this form.  We look forward to welcoming them as a member soon.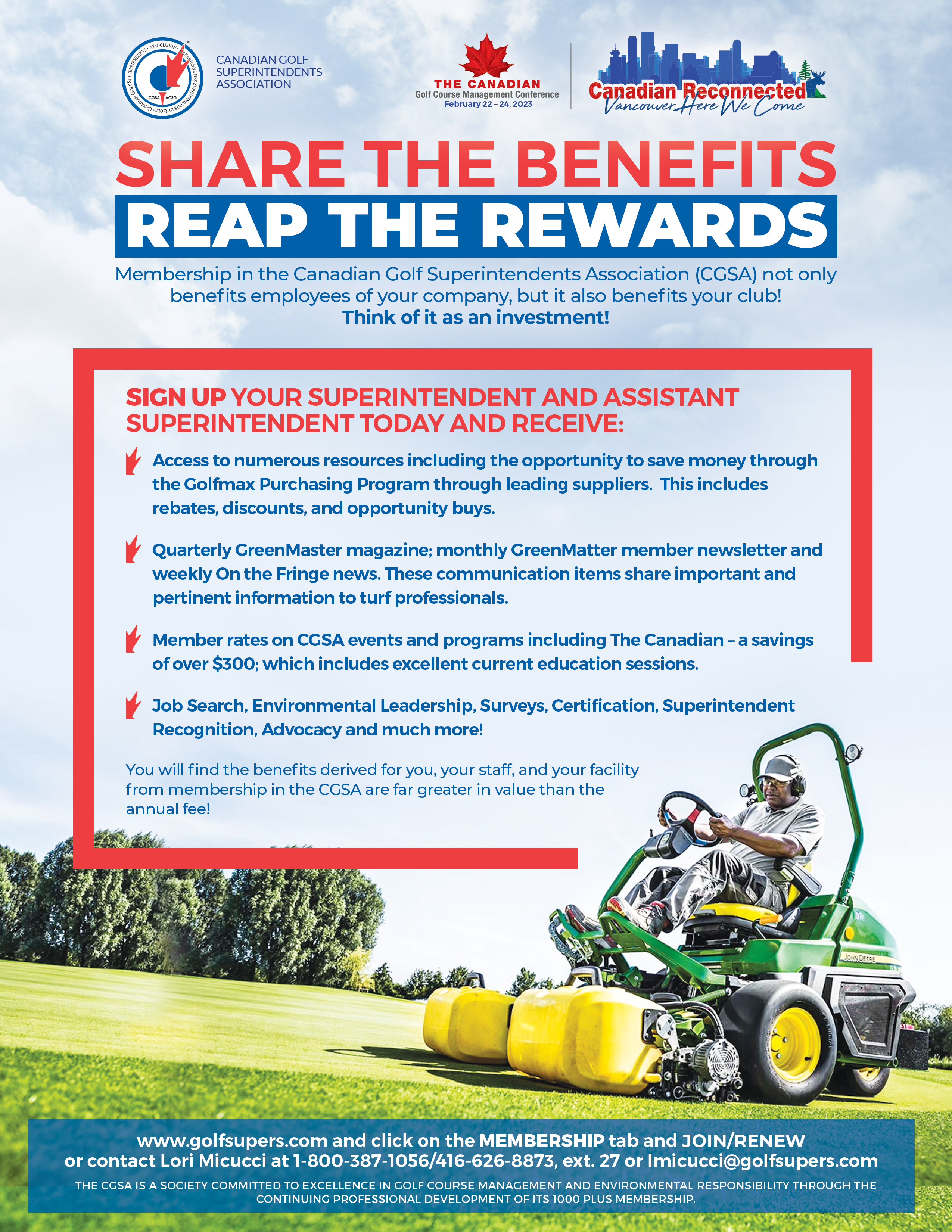 *************************************************************************************************
RECENT CGSA MEMBER WINNERS
Thank you to all our members who recruited a new member or signed up their staff in 2021-2022 and also attended our virtual conference in March.  As part of membership promotion in 2022 your name was selected as a winner of a CGSA prize.
The winners were:
Karen Rumohr, Superintendent, Woodside Golf Course
Chris Prodahl, Golf Course and Property Manager, Glendale Golf and Country Club
Scott Wheeler, CGCS, Superintendent, Gorge Vale Golf Club
Greg Austin, Superintendent, Sunset Ranch Golf & Country Club
******************************************************************************************************************
The CGSA is a society committed to excellence in golf course management and environmental responsibility through the continuing professional development of approximately one thousand members.
Sign up your Staff to Become a NEW or Re-Joining Member
Do you have a staff member that is not a CGSA member? Now is a great time to sign them up as a member!  CGSA's membership dues are currently prorated for new members.  If they join the CGSA now they will pay 1/2 price for their 2021-2022 membership dues and if they sign up for our upcoming virtual conference from March 1-3, 2022, in partnership with OGSA their name will go into a draw to win some CGSA prizes.  As an extra bonus, have the new member include your name as the referral and your name will also go into the draw to win prizes. This promo expires on February 28, 2022.
To see a list of Member Benefits, click Here.
To see more information on The Canadian, please click Here.
To take advantage of the prorated membership, To join on-line, click here or complete this 2022-2023 Membership Application form.
If you have any questions regarding membership, please contact Lori at lmicucci@golfsupers.com.
Note: The Canadian Golf Superintendents Association (CGSA) is offering free student membership to students enrolled in a Turfgrass Program approved by the Board of Directors, effective immediately!  For more information, please click here or complete this form, you will need to enter the special promo code when joining online.
FREE CGSA Student Memberships!
The Canadian Golf Superintendents Association (CGSA) is offering free student membership to students enrolled in a Turfgrass Program approved by the Board of Directors, effective immediately!
What's Included:
Eligibility for a CGSA student scholarship;
Access to our SuperSearch service;
Educational opportunities throughout the year;
Discount student rate to attend the conference;
Students can maintain their classification for one year after graduating and;
All the essential member benefits.
Who Can Join?
To qualify as a CGSA student member, the applicant must be enrolled as a full-time student in a turfgrass program approved by the Board of Directors. Student members shall have all the privileges of the association except that of voting and holding office. For more information and application forms on membership and/or the Awards Programs, please visit www.golfsupers.com.
How to Sign Up?
Complete your application online and check out. You must enter the promo code student2021 to receive the complimentary membership.
Or submit your Information to Lori Micucci by completing the form on the back of this page.
Once approved, you'll get an email with your login information!
We're excited to welcome you as a CGSA member TODAY!!
If you have any questions, or require further information, please contact:
Lori Micucci
Manager, Member Services
T: 1-800-387-1056 ext. 27, F: 416-626-1958 or E: lmicucci@golfsupers.com
 *******************************************************************************************************************
Thank you to every CGSA member who recently renewed their 2021-2022 membership renewal.  We appreciate your continued support.  As this season gets underway, we are wondering if you've considered membership for any of your key staff members, in particular your Assistant?  We know that you count on them for many tasks throughout the day so why not share the professional development and recognition that comes with being a part of the CGSA?
Help to make CGSA's voice stronger by sharing membership with your Assistant today! There are numerous benefits for your assistant including professional development opportunities, designation program and awards; including the CGSA/Toro Assistant Superintendent of the Year Award.
Simply have your Assistant complete this form or join online by July 1, 2021.  Include your name on the application and in return you will be entered into a draw for a CGSA prize pack.
For those who haven't renewed their membership yet, your membership expires on June 30th and you can renew now, by clicking here!
 If you have any questions, please contact Lori Micucci at: 1-800-387-1056/416-626-8873, ext. 27.