INTERNATIONAL "THANK A SUPERINTENDENT DAY"
WAS SEPTEMBER 13
TO HONOUR GOLF COURSE MANAGEMENT PROFESSIONALS
#THANKASUPER DAY WAS SEPTEMBER 13, 2022 TO THANK SUPERINTENDENTS FOR THEIR WORK TO PREPARE THE PLAYING FIELD FOR THOSE WHO ENJOY THE GAME OF GOLF. #THANKASUPER  TO WATCH THE COMMERCIAL, PLEASE CLICK HERE
In 2022, CGSA profiled Superintendents from each province including their course details and best advice. To view these profiles please click on the superintendent's name below: 
Mark Begin
 - AB, 
Karen Rumohr, AGS
 - AB,  
Dave Fair
 - BC, 
Scott Skead
 - NB, 
Marc Altese
 NL, 
Erik MacPherson
 - NS, 
Owen Russell, MS, AGS
 - ON,
Fred Forshner
 - PE, 
Gregory Greer, AGS
 - QC, 
Doug Campbell, AGS
 - SK, 
Derek Wirth
 - YT, & 
Mark Kerkowich
 - MB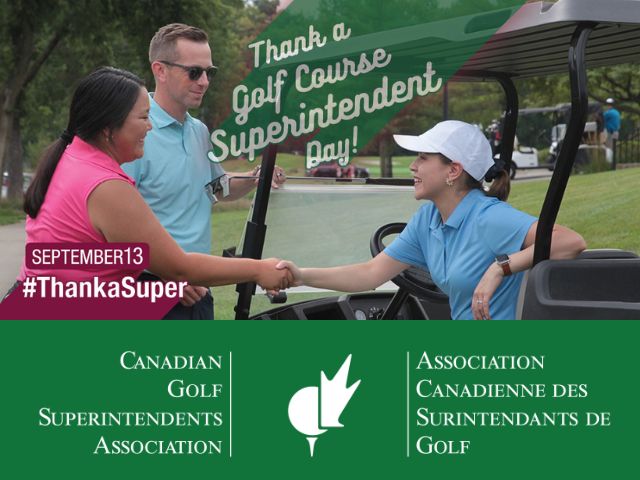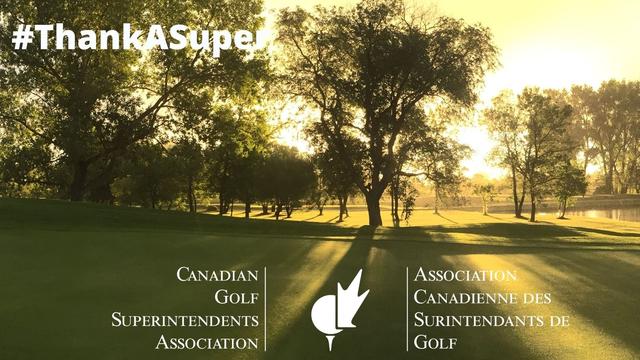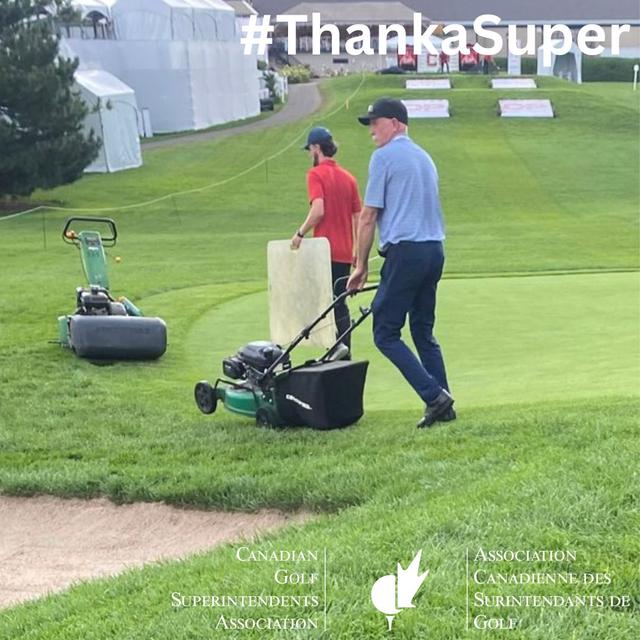 August 15, 2022
Mississauga, ON - On September 13, the Canadian Golf Superintendents Association (CGSA), in conjunction with other global superintendent groups, is recognizing those who help keep golf courses enjoyable and sustainable with an international "Thank a Golf Course Superintendent Day", encouraging all those who love golf to thank their course's superintendent.
Other groups taking part in the global event include the Golf Course Superintendents Association of America (GCSAA), the British and International Golf Greenkeepers Association (BIGGA), the Australia Sports Turf Managers Association (ASTMA) and The Federation of European Golf Greenkeepers Associations (FEGGA). All together the groups represent more than 31,000 golf course management professionals in 78 countries around the world.
"It's very rewarding to see this recognition of the value of our profession, and the growth of Thank a Superintendent Day around the world," said Pierre Vezeau, AGS, CGSA President. "The CGSA is pleased to be leading the promotion of this initiative throughout Canada and we encourage all golf industry stakeholders to become involved. Together we can attract more young turf professionals to great careers in golf."
The celebration on September 13 will include a commercial, recognizing superintendents around the world and social media messages touting the many ways that superintendents make the game more enjoyable and sustainable. Golfers and others are encouraged to join in the conversation on social media using the hashtag #ThankASuper.
In addition, golf courses and other groups are encouraged to provide special recognition for their superintendent and course maintenance staff on September 13.
During the 2021 Thank A Golf Course Superintendent Day, social media messages reached more than 9 million followers around the world.
About the Canadian Golf Superintendents Association (CGSA)
The CGSA is a society committed to excellence in golf course management and environmental responsibility through the continuing professional development of its 1000 plus membership. CGSA is the only national organization dedicated to supporting golf course superintendents and golf course management professionals in Canada. CGSA provides benefits including representation and promotion of the profession, advocacy, certification, professional development and awards dedicated to this golf sector. For more information on the CGSA please visit www.golfsupers.com or on Facebook or Twitter.
Contact:
Kathryn Wood, CMP
CGSA Chief Operating Officer
kwood@golfsupers.com

*********************************************************************
SEPTEMBER 14 WAS THANK A SUPERINTENDENT DAY IN 2021
This year, CGSA has profiled Superintendents from each province including their course details and best advice. To view these profiles please click on the superintendent's name: Bert McFadden; David Linstead; Derek Wirth; Doug Leavins; James Bryce; Keith Lyall; Kendall Costain, MS; Luc Ladouceur; Marc Altese; Michael Roberts; and Paul MacCormack #ThankASuper
Thank a Superintendent Day Photos & Videos below
Thank you Ken Bruneski video, click here