Attention Existing Members
:
You must
login
before you will be able to renew your membership.
RENEWAL CONTEST
Renew your CGSA Dues by May 31st For your Chance to Win!
Your name will go into a draw to win an All-Access Pass (valued over $650) to the 2023 Conference plus additional CGSA merchandise.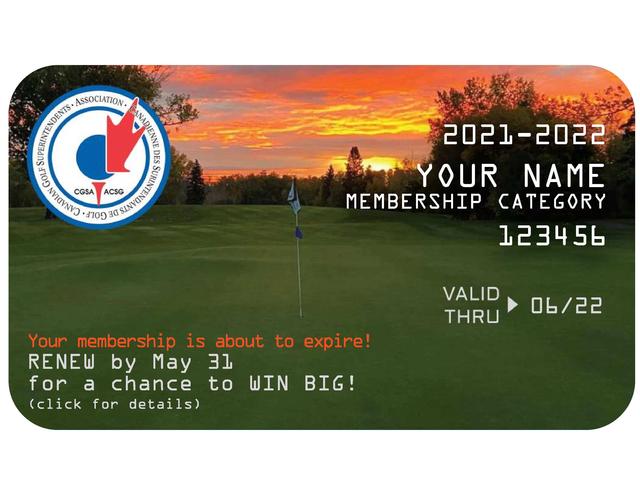 ---
NEW CGSA MEMBERSHIP BONUS
Sign Up Today and be Rewarded instantly!
The CGSA will happily cover your CGSA membership fee through June 30!
You'll ONLY be paying for your 2022-23 membership which begins July 1st.
**********************************
New CGSA, MGSA and BCSA Members may join using the links below. Membership runs from July 1 - June 30.
CGSA MEMBERSHIP DUES:
| | |
| --- | --- |
| Superintendent | $411 |
| Assistant Superintendent | $327 |
| Golf Equipment Technician | $238 |
| Golf Course Maintenance | $263 |
| Golf Course Management | $411 |
| Industry Affiliate | $526 |
| Industry 2 Affiliate | $156 |
| Associate | $391 |
| Student | Free |
BC Provincial Dues:
| | |
| --- | --- |
| Superintendent | $165 |
| Assistant Superintendent | $100 |
| Golf Equipment Technician | $100 |
| Golf Course Maintenance | $100 |
| Golf Course Management | $165 |
| Industry Affiliate | $100 |
| Industry 2 Affiliate | $100 |
| Associate | $100 |
| Student | $50 |
MB Provincial Dues:
| | |
| --- | --- |
| Superintendent | $150 |
| Assistant Superintendent | $150 |
| Golf Equipment Technician | $150 |
| Golf Course Maintenance | $150 |
| Golf Course Management | $150 |
| Industry Affiliate | $150 |
| Industry 2 Affiliate | $150 |
| Associate | $150 |
| Student | $25 |