Latest News > The Canadian Golf Superintendents Association (CGSA) Announces Christopher Dew, AGS from the National Golf Club as the 2021 CGSA/Bayer Superintendent of the Year Award Recipient
The Canadian Golf Superintendents Association (CGSA) Announces Christopher Dew, AGS from the National Golf Club as the 2021 CGSA/Bayer Superintendent of the Year Award Recipient
posted on Sep 14, 2021
MISSISSAUGA, ON - The Canadian Golf Superintendents Association (CGSA) and Bayer Environmental Science Canada (Bayer) are pleased to announce Mr. Christopher Dew, AGS from the National Golf Club in Woodbridge, Ontario as the CGSA/Bayer Superintendent of the Year for 2021. We are excited to announce the recipient as we celebrate Thank A Golf Course Superintendent Day #ThankASuper.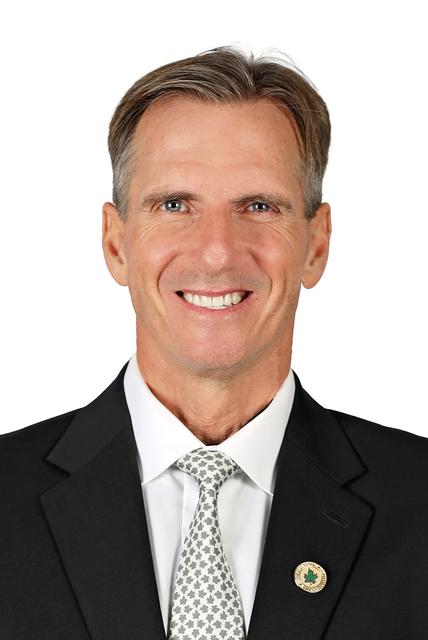 The CGSA/Bayer Superintendent of the Year award recognizes a member of the CGSA who has held the position of golf course superintendent for a minimum of five years and who has distinguished her or himself through dedication to the profession, performance as a golf course superintendent and contributions to their profession and their community.
"Chris has set the bar high for all superintendents in Canada.  He manages one of the top courses in the country and provides superior playing conditions on a consistent basis.  He does this year after year and yet remains a humble, kind, patient, and true friend to so many in the industry.  It was my distinct pleasure to personally notify Chris and congratulate him as the CGSA / Bayer Superintendent of the Year,"
John C. Scott, AGS, CGSA President.
The entire team at Bayer wish to congratulate Mr. Chris Dew on being awarded the 2021 CGSA/ Bayer Superintendent of the Year Award. "Whether it's providing first class playing conditions at The National or mentoring the many Assistants and AIT's that have worked under his direction Chris has much to be proud of," says Colin White, Marketing Manager for Bayer. "Chris is known for his professionalism and his willingness to help others in the turfgrass profession, and this award recognizes those efforts. Congratulations Chris!"
Colin White, Marketing Manager, Environmental Science - Canada
"What an absolute thrill it was receiving a phone call from our President John Scott, AGS sharing the Superintendent of The Year news! Thank you to both Bayer and The CGSA for this distinguished honour. And to those who offered support for this particular tribute, a big thank you! It is truly heartwarming. 
It certainly has been a wonderful lifelong journey, throughout which I am gratified to have developed bonds with countless industry peers and blessed to have several become true friends," Chris Dew, AGS, Superintendent, National Golf Club
As the CGSA/Bayer Superintendent of the Year winner, Chris will receive the following:
Attendance at and participation in the 2021 Fall Field Day;
Chris and his companion will receive an "All-Access" registration to The Canadian Golf Course Management Conference;
A site visit with a written agronomic report from a Bayer Green Solution Specialist;
Including a $5,000 Bayer plant protection package for the golf course; and
A trip for two to attend a Bayer educational opportunity that would include golf.
Chris has been a CGSA member since 1995. He has held the Accredited Golf Superintendent (AGS) designation since 2007 and has been the Superintendent at the National Golf Club which has been ranked several times as the best conditioned golf course in Canada since 1997. He was an active member of the OTRF board and responsible with fund raising for turf research and was an instructor at the John Deere/Bayer Green Start Academy helping Assistants develop their business and leadership skills. He has participated in focus groups that have forwarded information for CGSA initiatives and further programs. He values the importance to have a national and provincial association that can best represent golf course turf managers. He has mentored numerous Students and Assistants many who have moved into Superintendent positions.
Mr. Dew's early work experience started in the 80's at the Weston Golf Course as the Assistant Superintendent. He moved to Royal Woodbine as Superintendent in 1990 before moving into the Superintendent position at the National Golf Club of Canada in 1997.
"Chris has provided his membership with potentially unparalleled playing conditions throughout his career. The challenge of satisfying a demanding membership consistently in this day of age is extremely difficult. His patience, perseverance, and uncanny ability to navigate a diverse and dynamic occupation has allowed Chris to succeed. Molding a team of professionals to see and execute his vision has been paramount to his success and weathering mother nature's many storms,"
Al Schwemler, President, Ontario Golf Superintendents' Association
Mr. Dew  will be recognized during The Canadian Golf Course Management Conference and presented with his award during the Award Luncheon in 2022.
Congratulations to Chris on being named CGSA/Bayer Superintendent of the Year for 2021!
This award is completely funded by Bayer – a PLATINUM sponsor of the CGSA. Thanks to Bayer for its partnership with the CGSA.
About CGSA:
The CGSA represents golf course superintendents, assistant superintendents, equipment technicians, and others involved in golf course management across Canada. CGSA was founded in 1966 and has approximately 1,000 members. Its mission is to promote excellence in golf course management and environmental responsibility through the continuing professional development of its members. For more information, please visit www.golfsupers.com.
About Bayer:
Bayer Environmental Science is a leader in the turf and ornamental industry in Canada. Bayer is dedicated to the research, development and marketing of plant production products that provide customers with first choice solutions to protect and care for the environment, in which we all live, work and play. For more information, please visit  http://www.es.bayer.ca.
Contact:
Kathryn Wood, CMP                                            Colin White
Chief Operating Officer                                       Marketing Manager
CGSA                                                                    Bayer Environmental Science - Canada
1-800-387-1056/416-626-8873 ext. 23              519-767-3869